F.A.Q.
Welcome to the Garment Decor FAQ. Browse categories using the menu to the left.
Artwork & Logo Submissions
We're pretty easy to work with. Though we prefer a few specific formats (.EPS, .AI, .CDR) for best results, we can work with any popular image format.
What are your preferred image formats for artwork submissions?
.EPS, .AI, .CDR (in vector format with fonts converted to outlines or curves)
What are other acceptable image formats?
Any PC-compatible image file, including
.
PDF,
.
JPG and
.
PNG
.
What if I don't have artwork or a logo?
Don't worry. Share your thoughts with us, and send us what you have
-
even if it's just a sketch on a bar napkin. Our professional art team (possibly the largest in the industry!) will work with what you have to create exactly what you need for FREE.
Don't have any art at all? Just tell your Customer Care Rep what you'd like, and we will create it for you FREE. If you do not have artwork and would like us to typeset your info, we can do that as well. This is a tremendous value!
How do I send you my artwork or logo?
During the customization and checkout process online, you will have the opportunity to upload your artwork. Alternatively, you can email it to
info@garmentdecor.com
or your Customer Care Rep. You can also attach it to your order confirmation email, and send it back. When emailing your artwork, please provide your order number in the message, preferably on the subject line.
What should I know about type sets and fonts?
If sending vector/print-ready artwork (.ai, .cdr, .eps) with embedded fonts, please be sure that all fonts are converted to curves or outlines to avoid any font substitutions. If sending raster artwork (.jpg, .png, .bmp, .tif, or a Photoshop generated .eps file) with embedded fonts, please specify the font used, so we can recreate text accurately. If you would like us to try to match the embedded font, please specify in the comments.

Unique Fonts: If you are submitting only text, you will be offered a choice of several popular fonts. We also have many fonts installed in our system that we are able to use upon request. If a specific font is requested that we do not have on file, we may ask that you have a copy of the font sent to our art department.
What is a vector image? What about a raster image?
Most of our products require vector artwork for best results. Word processors, spreadsheet, or presentation applications - although suitable for creating files for office or Internet use - are not recommended for creating digital art for print. Microsoft Office apps are usually not a good source of art as well; however, in some cases, such files may be converted to enable use.
•
What about raster graphics?
Raster Images are produced by digital image capture devices, such as digital scanners or cameras, or by pixel editing programs (e.g., Adobe Photoshop). Raster images are composed of a matrix (grid) or bitmap of digital picture elements (pixels). Pixels are squares or rectangles described as black, white, Gray, or color. Raster images are typically saved as TIFF format, but can be saved as EPS as well. Whereas conversion from vector to raster is easily accomplished, raster conversion to vector is much more difficult (and is often impossible, especially when converting fonts). Raster images are easily shared across various platforms, but can be more difficult than vector graphics to modify. Raster graphics are also impacted by scaling.
•
What else should I know about vector graphics?
Vector Graphics are typically generated using drawing or illustration programs (e.g., Adobe Illustrator or Corel Draw), and are composed of mathematically-defined geometric shapes, such as lines, objects, and fills. Since vectors entail both magnitude and direction, vector elements are comprised of line segments whose length represents magnitude and whose orientation in space represents direction.
Vector graphics are easily modified within some applications, and are usually not affected by scaling (enlarging or reducing their size). Because vector elements are mathematically-defined, scaling simply requires modification of their mathematical locations. However, vector files do not support photographic imagery well and can often be problematic for cross-platform exchange. Vector graphics are typically saved in EPS format.
What is a virtual proof? What am I supposed to do with it?
Your Customer Care Rep will email or fax a free virtual proof (a digital preview of your artwork on the product) to ensure your complete satisfaction before we begin production. If you need to make changes, we will work with you to get your artwork exactly the way you want it, and that's the goal of the virtual proof.

Product customization, or production, will only begin when you are completely satisfied with your virtual proof, so you know your promotional products will convey your branding message professionally and accurately!
Can I specify a PMS color for my art?
Yes. In some cases, there is an additional charge for this service in order to buy the correct ink if an exact match is required. There are a few products in which this is not possible due to the limitations of the imprinting process.

Your Customer Care Representative will help you with this. Just let us know which colors we should be working towards in the additional comments section in the order process, or just let your representative know (you will get an email from them shortly after you place your order).
Do you keep my art or logo on file?
Yes. We keep your artwork on file to make future orders simple and easy. Each piece of artwork is saved for up to two years.
What should I consider when choosing the best logo for my promotional product?
Get opinions from people in your target market instead of merely relying on your own intuition and taste.

• If the logo uses words or letters, are they recognizable? You shouldn't have to explain or decipher the logo for people.
• Is the design consistent with the personality and tone you wish to convey?
Buying Process
Place an order online by visiting any product page*. Fill in your quantity in the price table, and hit the big orange "Next" button. On the next page, you may customize your product or order it
blank
if you prefer. Repeat this process until you've filled up your shopping cart. Then, hit the shopping cart link at the top right of any page.
Once you place your order online, you will immediately receive an email confirmation with your order number, and a Customer Care Rep will contact you to finalize loose ends and finalize artwork. When placing your order online, you may upload your artwork prior to checkout. If you have not uploaded your artwork online, you may send the artwork via email to your Customer Car Rep. Upon approval of the virtual proof (the digital preview of your art on your product), we will start the production process.
*Note: You may complete orders by phone, live chat, or fax
-
not just online. You may also email orders directly to your Customer Care Rep after you register for an account online.
Phone: (855) 942-7636
How do I place an order?
What happens after my order is placed?
Do you price match?
Yes, we do (exceptions apply). We will price-match any domestic online order with the exact same product, production time and shipping time, and give a discount of 10% of the price difference. Quoted price match prices are valid for 15 days. Price match offers are not combinable with coupons or other special offers.
Our Price Match Guarantee does not apply to:
Offers from websites that cannot be verified as genuine online retailers or distributors.
International production orders.
Pricing only available to select groups of customers including loyalty offers, discounts relating to non-warehouse membership programs and government exchange store offers.
Competitor offers including service prices, liquidation offers, and special daily or hourly sales.
Bundle offers.
Can I cancel or change my order?
You can cancel your order if the order hasn't been APPROVED (meaning virtual proof has been confirmed and credit card has been charged).
Once the order is APPROVED, Cancelations will be charged a $30 service fee which may include, but are not limited to, art charges, paper or product proofs, setup charges, restocking fees (15% of item price), or shipping charges. These fees will be billed at GarmentDecor.com's discretion.
We know that changes may occur, and will work with you to come to a resolution which is in the best interest of both parties. The best way to avoid cancelation fees is to be 100% confident that you want to move forward with your order. Please make your selections carefully and thoughtfully.
If the order ships, it would be treated like a return or exchange.
Click here for questions and answers on returns & exchanges
.
What are setup charges?
Some of the
items we offer have "setup" charges (screen charges, die charges, etc.). It is important to note these are NOT art charges. These are charges to create the screen, die or other necessary items to imprint your specific logo.
If I reorder a promotional item with the same artwork, will I pay setup charges again?
If you place an exact reorder (same art and item) within 2 years, you may not have to pay a setup charge again, but it depends on the item you are purchasing. If you are required to pay a "repeat setup" charge then it will be less than the original setup charge. Your Customer Care Rep would be happy to advise you if there would be a repeat setup charge.
If I place multiple orders using the same design, do I still have to pay the setup fee for each order?
Yes. Each product has a different set-up cost, even if the design or imprint is the same. They would each have to be printed in separate machines and at different times.
Will I see a virtual proof (photoshopped preview of my promotional product) before my order goes into production?
Yes! You will always see a virtual proof of your item. That's because you must approve the art, location and overall appearance of your product before we produce it.
Do you charge sales tax?
In compliance with a new law, Garment Decor will collect state and local sales tax on all orders where applicable as of January 2019. Purchases will be subject to state, county, and/or city tax unless within a jurisdiction or for an organization that is tax exempt.

If you are ordering on behalf of an organization that is exempt from sales tax (state or local), please provide us with your tax exemption letter, form or resale certificate.

*Please note 'income tax exempt' and 'sales tax exempt' are not the same.

If a reversal of tax is necessary, please request this in a timely manner. We are only able to remove tax from an order within the same month of the order being placed.
Can I order in quantities smaller or larger than those shown?
Most of the time, the minimum quantity shown is the required minimum, although we encourage you to call if your requirements mean you need fewer items. We can sometimes work a little magic behind the scenes, so it's worth a try. If you need to order more than the quantities shown, please call 855-942-7636 as additional discounts may be available.
What if I receive damaged or broken items?
We use a specialized method of foam packaging to ship our products. In the event that damage is incurred, please advise your Customer Care Rep. We will either replace or credit the damaged pieces.
Learn more about returns & exchanges
.
How can I get a quote?
The easiest and fastest way to get an instant quote is through any product page using the appropriate button under the price table. You may also email info@garmentdecor.com, and an associate will contact you the same day if you contact us early enough in the day. Otherwise, we will get back to you by tomorrow. In most cases, we respond within an hour.
Can I place my order over the phone?
Sure, please call our toll-free number: 855-942-7636 Monday – Friday from 6:00 am – 6:00 pm (Pacific Time) and an associate will gladly help you. Please have your product information and credit card information ready.
Can I email my order?
Yes, you may email your order by messaging your Customer Car Rep. To be assigned a Customer Care Rep, you need to create an account online or by phone. You should attach your artwork to the email if applicable.
Do you offer rush Service?
This depends on the product that you want, quantity and customization services. Most products have rush options available, and this information can be found on each product's product page. We can also work some behind-the-scenes magic in situations that warrant special attention, but you need to contact your Customer Care Rep to discuss options and fees.
More questions and answers on rush service
.
What is the total cost of my order?
The shopping cart will give you the total cost, including the shipping and setup charges. You will see this number several times throughout the checkout process, including in your order confirmation.
Coupon & Special Offer Policy
GarmentDecor.com offers coupons as an additional bonus for our loyal customers. Garment Decor's coupons are sent to customers via email for those customers who register on our email sign up page. Coupons are also advertised on Garment Decor's social media channels. When checking out, add the coupon code to redeem.
All coupons must be GarmentDecor.com's coupons; we do not honor competitor coupons or coupons from third party publications and websites. To redeem a coupon, it must be added at checkout; coupons cannot be applied to prior purchases. Coupon discounts are taken once the required pretax purchase amount is met. Coupons may be used on all regular and sale priced items, unless stated otherwise, however, they cannot be combined with any other offers.
Other restrictions or conditions may apply. Please review the terms printed on our coupons prior to redeeming.
GarmentDecor.com offers gifts with purchases to customers. Gifts are selected by Garment Decor and valid for a limited time.
If the original order placed by the customer qualified for our Price Match Guarantee, the order does not qualify for the gift with purchase.
All gifts with purchases have the following restrictions:
Cannot change shipping method
Cannot change quantity
Cannot change production time
Cannot change imprint method or location
Does not qualify for Price Match Guarantee
Full orders must be closed for gift with purchase to go into production. If full order or orders are cancelled or voided, then gift with purchase will also be cancelled or voided.
Customization & Printing
There are
many different
ways to customize a promotional product with your name, logo or art. Some popular methods include: screen printing, laser engraving, and heat stamping. You'll find the standard imprint method for a specific product on its product page. Please, take a moment to learn more about the various imprint methods that we offer.
What is screen printing?
Screen printing is arguably the most versatile of all printing processes. It can be used to print on a wide variety of materials, including paper, paperboard, plastics, glass, metals, and fabrics. Products often screen printed include: posters, labels, decals, signage, electronic circuit boards, and textiles. The advantage of screen printing over other print processes is that the printing press can print on products of any shape, thickness and size.

A significant characteristic of screen printing is that a greater thickness of the ink can be applied to the substrate than is possible with other printing techniques. This allows for some very interesting effects that are not possible using other printing methods. Due to the simplicity of the application process, a wider range of inks and dyes are available for use in screen printing than for use in any other printing process.
What is off-set lithography?
Printing processes such as offset lithography use printing plates to transfer an image to paper or other substrates. The plates may be made of metal, plastic, rubber, paper, or other materials. The image is put on the printing plates using photomechanical, photochemical, or laser engraving processes. The image may be positive or negative.
What is heat stamping?
Heat stamping, or hot stamping, is a process in which an engraved image mold or hot stamping die is heated then forced down against a product with a colored marking foil sandwiched in between. The area where the die cast mold meets the product is where the ink from the foil is left behind. Heat stamping can be used to mark a multitude of different materials, mostly plastic and wood. The most attractive aspect of heat stamping is that it is a dry process, so there is no need to worry about mixing inks.
What is laser engraving?
Laser engraving is the practice of using lasers to engrave, etch, or mark an object. The technique can be very complex, and a computer system is used to drive the movements of the laser head. Despite the complexity, very precise and clean engravings can be achieved at a high rate.
What is embossing?
Embossing is a highly decorative technique. It raises surfaces to transform ordinary, flat, and lifeless material into uniquely contoured, 3-dimensional patterns. Most often used on letterhead, business cards, certificates, and logos, embossing enhances any design and gives your product a look of sophistication and style.
What is debossing?
Debossing pushes the surfaces of materials inward via a heat-pressing process. Often used for logos and titles, debossing enhances the appearance of your products by adding depth.
Delivery
We make every effort to ship your merchandise from the factory to your location on or before the date specified in your Order Confirmation or desired due date. We usually provide tracking information within 24 hours of shipment.

We ship from various manufacturing facilities throughout the United States. If your order contains multiple items, these items may arrive in separate shipments. If you have further questions or concerns regarding shipping, please don't hesitate to contact your Customer Care Rep for assistance. Please, be advised that we are unable to ship orders to PO or APO boxes at this time.
When will my order arrive?
The transit time is dependent upon the distance between the factory and the shipping destination. Shipments often take about 1-5 business days. 99.9% of all the orders that we process are shipped on time.
Production time are listed for every item on the site. This is the number of business days it takes to customize your item after you've approved the artwork for production. The number of days for delivery depends on the shipping method you choose. As part of the online ordering process, we show you the shipping
charges for
ground (usually 2-5 days transit time), 3-day, 2-day and next-day shipment. If you need an item faster than the production time shown or if you have any questions contact us directly at 855-942-7636. We love a challenge, and would be happy to help!
Do you offer rush service?
Do you ship internationally?
We do not ship outside of the USA.
Where do you ship from?
We ship from various manufacturing facilities throughout the United States, including our main office in Southern California.
How do I know when my order has shipped?
You will receive an email notifying you that your order was picked up by the shipping company, and we will include a tracking number in that message.
If I place my order today, when will I receive it?
How do you ship your products?
All orders are shipped via insured standard delivery (unless otherwise specified) using the carrier of our choice. We make every effort possible to ship your order by the most economical method available to meet your due date. Rest assured that we do not add inflated handling fees like some of our competitors. Orders of excessive size or weight may be shipped via common carrier (freight line), but you will be notified if this is necessary.
Can I split my order and ship to multiple locations?
Yes. Just let your Customer Care Rep know (you will get an email from them shortly after you place your order), and they will be happy to assist you. Freight fees will be charged accordingly.
How do I track my order?
Once your order is shipped, we will email you the tracking information.
Overrun & Underruns
Why did I receive more or less pieces than actually ordered?
In certain instances you may receive an overage or a shortage on your order.
Due to manufacturing quality and production standards there will be over runs and occasionally under runs. We will do everything possible to reduce this occurrence. The industry standard on most products is ± 10%. For instance, if you order 1,000 mugs you could potentially receive between 900 and 1,100 mugs. Exceptions to the above are paper and plastic bags, which may vary ± 25%.
We will bill credit card only for the actual quantity shipped. If you have any questions please contact us at either
1-855-942-7636 or email us.
Payment
We accept a variety of payment options, including all popular credit / debit cards.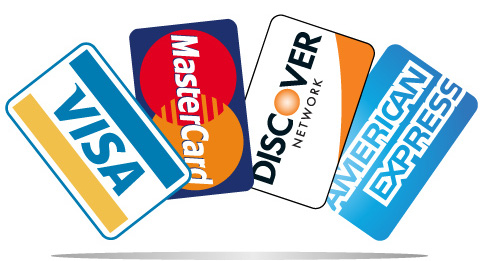 What type of payments do you accept?
We accept all major United States credit cards, including Visa, Mastercard, American Express and Discover.
When do you charge my credit card?
We authorize the funds available on your card (also known as a "booking") once your order is ready to go into production, but we do not collect the funds until your order ships.
Can I refund to a different credit card?
As is common with most businesses that accept credit cards, we can only process a refund to the same payment method and card number used to make the original purchase. This is a policy of the credit card networks (Visa, MasterCard, American Express, and Discover) and applies to all credit and debit card transactions.

We can only use a different payment method if the refund attempt fails (that is, only if the refund is declined by the receiving bank). Therefore, if the original warranty purchase was a credit card, we must attempt to refund that original card first.

If your credit card company or bank gave you a different card number, the credit card network will automatically apply the refund to your new account. Credit card networks, such as Visa, keep track of changes in card numbers automatically, as long as the account itself was not closed.

If you have closed your account with that credit card company or bank entirely, the refund will be applied to any amount you might still owe on that account, and the bank is obligated to send you a check for any credit balance you might have after our refund.

Any problems with refunds that have been successfully processed to a credit card must be addressed with the bank that issued that card. We can provide a transaction reference number if needed to help that bank locate the refund.
Why my credit card is declined?
Card Verification Codes - CVV2, CVC2, CVD and CID
Card Verification Data (CVD) codes are the three or four-digit codes on the back of the payment card that are used to further authenticate the consumer during a card-not-present transaction. The following are the response messages sent back to you during the authorization process, and can help determine your next action—approval, exception or decline.
Code
Visa CVV2
MasterCard CVC2
Discover CVD
American Express CID
M
Match
Match
Match
Not applicable
N
No match
No match
No match
No match
P
Not processed
Not processed
Not processed
Not applicable
S
Should have been present
Should have been present
Should have been present
Not applicable
U
Issuer unable to process
Issuer unable to process
Issuer unable to process
Issuer unable to process
Y
Not applicable
Not applicable
Not applicable
Match
AVS Response Codes
Address Verification Service (AVS) is a service provided by the payment brands that determines the match or partial match of the consumer's address information. The responses are returned to you during the authorization process via your transaction processing software/hardware, and can help determine your next action—approval, exception or decline.
Code
Visa
MasterCard
Discover
American Express
Y
Address & 5-digit or 9-digit ZIP match
Address & 5-digit ZIP match
Address only matches
Address & ZIP match
A
Address matches, ZIP does not
Address matches, ZIP does not
Address & 5-digit ZIP match
Address only matches
S
AVS not supported
AVS not supported
AVS not supported
AVS not supported
R
System unavailable, retry
System unavailable, retry
Not applicable
System unavailable, retry
U
Information not available
Information not available
System unavailable, retry
Information not available
Z
Either 5-digit or 9-digit ZIP match, address does not
5-digit ZIP matches, address does not
5-digit ZIP matches, address does not
ZIP code only matches
N
Neither ZIP nor address match
Neither ZIP nor address match
Neither ZIP nor address match
Neither ZIP nor address match
W
Not applicable
For U.S., 9-digit ZIP matches, address does not. For non-U.S., ZIP matches, address does not
Information not available
Not applicable
X
Not applicable
For U.S., all digits match. For non-U.S., ZIP and address match.
Address & 9-digit ZIP match
Not applicable
B
Address matches, ZIP not verified
Not applicable
Not applicable
Not applicable
T
Not applicable
Not applicable
9-digit ZIP matches, address does not
Not applicable
P
ZIP matches, address not verified
Not applicable
Not applicable
Not applicable
C
Address and ZIP not verified
Not applicable
Not applicable
Not applicable
D
Address & ZIP match (International only)
Not applicable
Not applicable
Not applicable
G
Address not verified for International transaction (International only)
Not applicable
Not applicable
Not applicable
I
Address not verified (International only)
Not applicable
Not applicable
Not applicable
M
Address & ZIP match (International only)
Not applicable
Not applicable
Not applicable
F
Address & ZIP match (UK only)
Not applicable
Not applicable
Not applicable
W-9 Form
Here is our W9, click on the link to view or download.
W-9 Form
Privacy
Garment Decor recognizes your concerns about privacy and security on the open Web, so we work hard to make sure ordering with us secure. Your information is safe with us. We don't even store credit card numbers!
How secure is your website?
Our site is secured by ScanAlert, Trusted Ecommerce and RackSpace. Your personal & payment information is secured by Authorize.net & Verisign. All purchases on our site are completed through a secure connection (SSL).

Furthermore, we do not store credit card information on our end for any reason. This protects both you and us from identity thieves.
Do I have a security guarantee?
We take your business seriously, and we'll use every precaution necessary to ensure that your shopping experience is safe. We use the best technology available, Secure Socket Layer encryption, to keep your private information and credit card details as secure as possible. We do not sell any of your information to any third parties, and we don't even store credit card numbers.

Your personal & payment information is secured by Authorize.net & Verisign.
How is my privacy protected at GarmentDecor.com?
At GarmentDecor.com, we value your business and your trust. Therefore, we will not sell, rent, nor give away customer email addresses and information to other businesses. The reason we request your email address is so that we can send you information regarding your order, such as order confirmation, order processing, and tracking number.
Product Samples
We have free product samples available for several products in our catalog. Availability of samples depends on a number of factors, including the availability of sample inventory.
Will you send me a product sample of a product I'm considering?
Yes. We would be happy to send you a product sample, though not all products are eligible. Samples are available for registered customers.
Our Sample Policy:
•
A Standard sample order under $10 with up to three items is free if you have a shipping account with UPS or FedEx, which we will use to cover the shipping charges. Customers without shipping accounts will always pay for standard samples and shipping costs. Customers are limited to a total of 3 sample orders total. Two orders will be honored and the third order must be paid.
•
Standard samples feature a random brand or organization's artwork (in some cases, no artwork), and they are always available online, via any product page. Standard samples are not customized any notes regarding imprint requests for samples will not be honored.
•
If your standard sample is unavailable, the closest alternative will provided. This rule only applies to standard samples, not pre-production samples.
•
Apparel samples are never free and both the apparel item and shipping must be paid for with a credit card.
•
Pre-production samples feature your very own artwork, and they are available for a fee that can range anywhere from $50 to $200.
•
Multiple sample requests may incur multiple shipping fees, so you may see multiple shipping transactions on your shipping account statement, as samples can ship from different locations throughout the USA.
•
Once you become a customer, you may experience an increasingly lenient sample policy as we continue to work together on future projects, but due to the occasional misuse of our sample policy, we reserve the right to refuse free samples to any party at our discretion.
•
Samples are final sale. No refunds or returns of any kind will be accepted for sample orders. Since samples will have a random brand or artwork, standard samples
For question regarding samples, please send email to sample@garmentdecor.com.
Will you send me a digital preview of the promotional product with my artwork on it?
Yes. Once you place your order, you must approve a digital preview (virtual proof) of your product prior to production.
What is a pre-production sample?
A pre-production sample is a real-world sample of the item you are ordering with any requested customization. Pre-production samples are available for most products.
What is the cost for a pre-production sample?
Fees do apply for an actual product sample. Pre-production sample fees added are product cost, setup cost and shipping. Please contact your Customer Care Rep to discuss fees, transit times and more.
I don't have time to wait for the ground shipping. Can you help me get my sample on time?
For RUSH sample requests, we can expedite the order by using your UPS or FedEx account number (or charge your credit card) for much faster shipping services.
Product Selection
GarmentDecor.com carries anywhere from 40,000 to 60,000 products at any given moment. It's a lot to sort through, and that's why we have a variety of shopping guides available at the top of any page of the website. Furthermore, your Customer Care Rep would be happy to help you select the best and most effective products for your promotional giveaway.
How can I pick the perfect promotional product?
Whenever a customer asks us this question, we always like to refer to the GarmentDecor.com Four R\'s:
•
REPUTATION
: Choose a promotional product that reflects your company's image.
•
REAL ESTATE
: Whether you want to capture their minds, hearts or bellies, choose your promotional product with the 'target' audience in mind. For example, if you are an auto repair shop, you should choose a promotional item that will keep your company's name close to their car or car keys. A key chain, a tool kit, a magnet or a bumper sticker customized with your company's message will get your customers to understand you are helpful and only a phone call away.
•
REMEMBRANCE
: Choose a promotional product that will be practical and useful for your recipient beyond the show. A bag, a t-shirt, a promotional pen, a first aid kit or a mug are great examples of promotional items that will be used time and time again - and your company logo and/or info will be right there every time.
•
RELEVANCE
: Pick a promotional product that conveys your message and relates to the product or promotion that you are promoting. For example, if you are hosting your annual sales conference at a remote resort location, equip your sales team with the beach accessories that will encourage them to get outside and enjoy themselves, while reminding them who sent them there in the first place!
Is there anyone who can assist me with my project?
Yes! We have a complete customer support team of merchandisers, graphic artists and account executives prepared to coordinate your next promotional product giveaway.
• Call us between 6:30 AM and 5:00 PM Pacific Time: 855-942-7636
• Email us at
info@garmentdecor.com
• Click on the Live Chat Icon at the top of any page on the website.
Do you sell name brand promotional products?
Yes! Garment Decor is an exclusive provider of brand-name promotional gifts and promotional items, including Fossil, Adidas, Nike, Swiss Army, Bic, Cutter & Buck, Vantage, Russell, Champion, Greg Norman, Outer Banks, Munsingwear, Fruit of The Loom, Waterman, Post-It, Parker, Titleist, and much more! If you do not see the exact promotional item that you want on the website, call us at 1-855-942-7636, and we will do our best to find it for you.
Returns & Exchanges
Customized goods are not usually accompanied by guarantees, but Garment Decor has changed that. We have a 30-day return and exchange policy with few restrictions.
•
Our fault? It's on us.
If we are at fault in any way, we will refund or exchange 100% of your order.
•
Not our fault? We'll work with you.
We don't usually accept returns when it's not our fault, but we know mistakes happen. That's why we try to accommodate as many returns and exchanges as we can - even some that aren't our fault.
Some orders may be eligible for returns or exchanges at our discretion if the return or exchange occurs within the first 30 days after the customer receives the package as long as the order is under $1,000 (before shipping and tax) and the order is returned or exchanged in its entirety. Shipping costs to return the merchandise are charged to the customer's account, but in the case of an exchange, Garment Decor covers the shipping charges for the trip back to the customer. Blank products may be returned for a 15 percent restocking fee within 30 days after receiving of order. Call us at 1-855-942-7636 or email your Customer Care Rep for your return authorization number to get started.
Rush Service
Rush service refers to expedited order processing and product production. Many of our products are eligible for rush service, but some products are not eligible. In any case, you should contact your Customer Care Representative directly to discuss all your options. Even if standard delivery options and (rush-service) production time suggest otherwise, sometimes we can pull strings to get your products to your doorstep on time, but this requires close coordination between you and your Customer Care Rep.
To request standard rush service, find an eligible product online. You can identify products eligible for rush service because the product page or search page will include a rush-service icon by the product name (the same icons below this paragraph). You can also
browse the Rush Service page
, which lists all eligible products. Then, specify during the online ordering process that you would like rush production.
What is 24-Hour/1-Day Rush service?
In a rush? Take advantage of our 24-Hour-Rush (AKA One-Day Rush) Production, which is available on hundreds of specially designated items! You can identify products eligible for 24-hour rush service because the product page or search page will include a 24-hour rush icon by the product name. You can also
browse the 24-Hour-Rush Service page
, which lists all eligible products.
When you\'re in a hurry, every second counts. You can trust us to deliver your 24 Hour Rush order accurately and on time, every time!